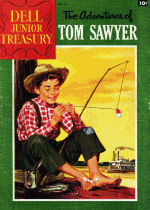 .
Art by
Frank Thorne
Page 2

Note about the Greek
: since there is still no easy way to put an accent on top of a makron, I decided to omit the accent on long vowels that are taking an acute accent. For example, I write Διονῡσιος instead Διονύσιος.
The Adventures of Tom Sawyer

Gesta Thōmæ Serrāriī
Αἱ πράξεις Θωμᾶς Πρίστου
Tom Sawyer

Thōmās Serrārius
Θωμᾶς Πρίστης
Tom, you Tom!

You'll have to finish yourself, Jim!
Thōmā, tū Thōmā!
Perficiendum erit tibi ipsī, ō Jācōbe!
Θωμᾶ, σὺ Θωμᾶ.
Διαπρακτέον ἔσται σοὶ αὐτῷ, ὦ Ιάκωβε.
I won't notice your not helping me, Tom! But I'll sure miss the stories you do tell!

Nōn sentiam mē ā tē nōn adjuvārī, ō Thōmā! Dēsīderābō autem tuās nārrātiunculās!
Οὐκ αἰσθήσομαι μὲν τοῦ σὲ μὴ βοηθεῖν μοι, ὦ Θωμᾶ. Ποθήσω δὲ διηγημάτια τὰ σὰ.
Drat that boy! Always late! I declare you'd never know that Sid and Tom was even half-brothers! We'll eat without him!

In bonam rem puer semper sērus! Numquam agnōscās Dionȳsium Tōmānque etiam uterīnōs esse! Sine eō cēnābimus!
Εἰς μακαρίαν ὁ ἀεὶ ὄψιος παῖς. Οὔποτε ἂν γιγνώσκοις Διονῡσιον καὶ Τωμᾶν ὄντε καὶ ὁμομητρίω. Ἄνευ αὐτοῦ δειπνήσομεν.
Let me help you, cousin Mary!

Sine ut adjuvem tē, cōnsōbrīna Marīa!
Ἄφες με βοηθεῖν σοι, ἀνεψιὰ Μαρία.
Land o' Goshen! Your hair looks like a hurrah's nest! Did you wash your hands good? Well, eat afore your food's cold!

Ēcastor! Capillus tuus similis est eō Gorgonis! Abluistīne manūs? Esto, ēde antequam
cibus tuus frīgēscit.
Νὴ τὼ θεώ. Αἱ τρίχες σου ὅμοιαί εἰσι ταῖς τῆς Γοργοῦς. Ἆρ' ἀπενίψω τὰς χεῖρας; Εἶεν, φάγε πρὶν ὁ σῖτός σου ἀποψύχεται.
Yes, aunt Polly!

Hoc agō, mātertera Miryām!
Tαῦτ᾽ ὦ θεία Μαριάμ.
Tom, it was powerful warm in school today, wasn't it? But instead of staying there you didn't go swimming?

Ō Thōmā, nōnne hodiē fuit diēs calidissima in lūdō? Numquid autem, cum illīc adesse dēbērēs, natātum īvistī?
Ὦ Θωμᾶ, ἆρα οὐχ ἡ σήμερον θερμοτάτη ἐγένετο ἐν τῷ διδασκαλείῳ; Δέον δέ σε ἐκεῖ παρεῖναι, μήτι εἰς νεῦσιν ἦλθες;
No. Well, not very much.

Nōn. Scīlicet nōn maximē.
Οὐχί. Δηλονότι οὐ τὸ πλεῖστον.