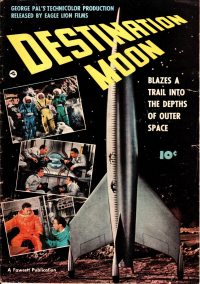 This is actually the comic adaptation of the
1950 movie,
which I enjoyed too.
Page 3
In this day of wondrous science, we have jet planes that exceed the speed of fleet sound itself!
Hodiē, scientiam mīrantēs, habēmus āeronāvēs, quæ sonum superant!
Σήμερον, θαυμάζοντες τὴν ἐπιστήμην, ἔχομεν ᾱ̓εροσκάφη μὲν τὸν ἦχον ὑπερβάλλοντα.
We have rockets that pierce the sky for hundreds of miles!
Radiōs autem igniferōs, quī per cælum īnfīnīta mīllia trānseunt!
Πῡραύλους δὲ διερχομένους διὰ τοῦ οὐρανοῦ μῡρία στάδια.

And we have atomic energy at our fingertips, a giant of power!
Vim autem nucleārem nōbīs subjectam, excellentissimam potestātem!
Τὴν δὲ πῡρηνικὴν ἐνέργειαν ἡμῖν ὑποτεταγμένην, δύναμιν κρατίστην οὖσαν.
But what is in store for mankind tomorrow?
Quid vērō hominibus crās fīet?
Τί δὴ τοῖς ἀνθρώποις αὔριον γενήσεται;
Will he soon soar away from Earth into the limitless reaches of outer space?
Sūrsumne mox ā Terrā in īnfīnītum spatium ināne ferentur?
Ἆρ' αὐτίκ' ἀνοισθήσονται ἀπὸ τῆς Γῆς εἰς τὸ ἄπειρον κενὸν διάστημα;
Four courageous men attempt to answer this thrilling question as they blaze an interplanetary travel, rocketing into the unknown with… Destination Moon!
Quattuor virī fortēs ad hujusmodī quæstiōnem rēspondēre cōnantur, quī viam inter planētās signant, radiō in incognitum vehuntur, in Lūnam nāvigant.
Τέσσαρες δ' ἄνδρες ἀγαθοὶ πειρῶνται ἀποκρῑ́νασθαι πρὸς τοιοῦτο ἐρώτημα, σημειῶντες μὲν ὀδὸν διὰ τῶν πλανήτων, πορευόμενοι δ' ἐπὶ πῡραύλου εἰς τὸ ἄγνωστον, πλέοντες δ' εἰς τὴν Σελήνην.